Client: Rapido Events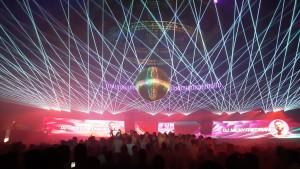 For the first time in their existence, Rapido Events hosted the proven concept "Funhouse" at the same time in the Gashouder, Transformatorhuis, WesterUnie en de Westerliefde.
Approximately 8000 people danced the night away on the beats of DJ BE-RIK, Sharon-O-Love & Micky Friedmann and many more.
Due to the limited availability of the different locations, the built-up and de-rig of all showitems, stages and site had to be done in recordtime.
RTN Showsupport handled the technical production to steer everything into the right direction.
A peak performance by all parties involved.