"A good start is half the battle"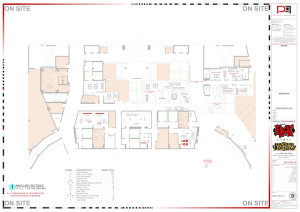 Is the sound in the way of the video-projection?
How many seats should I order?
Are all the emergency exits accessible?
Is there enough power to support the project?
All of the above are questions that come up during the production process.
Besides that, you will have to take into account the maximum capacity for visitors and the council/venue often want a drawing for the permit request.
By integrating all components into one drawing, these questions can be answered upfront.
As you "virtually" erect your event, you will know what you will need as the likes of furniture, fences, audio-visual resources etcetera.
Thereby avoiding being at a loss for items at the crucial moment, or overbooking and paying for something you do not need.
RTN Showsupport can help you in reviewing quotes from suppliers. Not only in numbers, but also in quality.