Client: Production Associates GmbH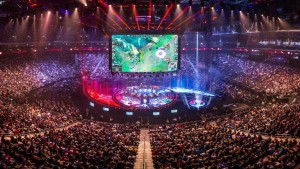 In 2015, Europe had the honour of hosting the World Championships of League of Legends.
For the first time, RIOT Games brought the World Series of the popular e-sports game to Paris, Lonon, Brussels and Berlin.
Eventually, two teams battled it out in front of 13.000 fans in the packed Mercedes-Benz Arena in Berlin for the title.
Production Associates GmbH was responsible for the entire technical production and contracted RTN Showsupport for the supervision on lights, sound, rigging and set for this 7 week tour.